KOJIC ACID SOAP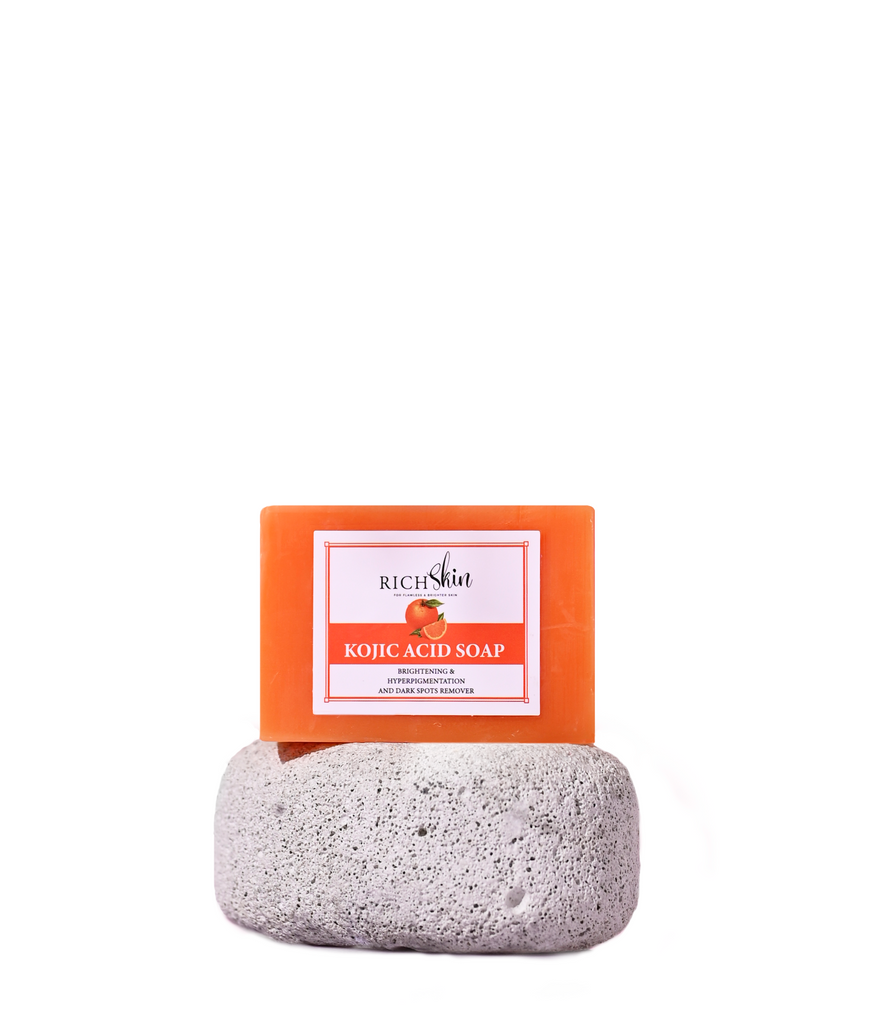 good bye bad skin days for good     
The beauty bees are well aware "Beauty lies skin deep "you want your skin to glow, spotless and even tone in two weeks without any hefty treatment in-office. You might secretly apply some beauty-enhancing acids in current beauty regime. But the true secret is one magical under-the-radar acid that truly deserves the spotlight is KOJIC ACID SOAP.
What is Kojic Acid?
Kojic acid is a natural metabolite derived from different types of fungi and molds like mushrooms, rice, sake, and soya. Kojic acid inhibits tyrosine production that eventually controls melanin to diminish dark spots and discolored skin tone.
Kojic acid soap uses and benefits
Kojic acid soap is one powerhouse of vital ingredients that will not let your flaws bring you down. Fight them; defeat them with this natural skin brightener. Spot-fading skin brightening of whole body is the real game of this natural ingredient; however it possesses a lot of other standout qualities.
Natural skin lightening and brightening agent
It's the best soap for people looking for a natural ingredient to lighten and brighten skin tone. Yes!  You guessed it right melanin control is the reason.
Less aggressive than Hydroquinone         
Unlike alpha-hydroxy, beta hydroxyl, and hydroquinone, Kojic acid doesn't chemically exfoliate skin outermost layer. It's a natural, less aggressive ingredient, gentle to the skin.
Banish hyper pigmentation (dark spots)
As a melanin production blocker, it battles against dark spots & hyper-pigmentation of any kind. Acne spots, post-inflammatory spots, sun damage spots. Compared to other skin lightening acid's performance tranexamic acid (6 to 10 weeks) retinol (4 to 6 weeks) Kojic acid soap works in the blink of an eye, just two weeks and you will start enjoying results
Melasma & Acne spots
Kojic acid is a great antioxidant. For those having acne or melasma that tend to leave dark spots all over the body, incorporating  Kojic acid in daily cleansing can lighten up these spots. This is a dermatological recommendation in such medical conditions.
Anti-aging
Kojic acid is protection against UV rays that counteract aging spots, fine lines, wrinkles. Even Dark circles around eyes due to hyper-pigmentation, under-eye thin skin, puffiness, hollowing can be improved using Kojic acid.
Sunspots environmental damage
Kojic acid helps scavenge and impede photodamage and environmental pollution effects on the skin. It can improve injury scars, cuts, wounds too.
Treat bacterial & fungal infection
Being antibacterial, antifungal Kojic acid has the unique ability to prevent and treat many infectious diseases like athlete's feet, yeast infection, candidiasis ringworm, and bacterial acne spread. Kojic acid soap is best to cover these areas.
How to use Kojic Acid soap for best results
For best results
Read bar soap manufacturer instructions. 
Take a patch test.
You may use it daily or twice/ thrice weekly for a bath.
Follow up with toner, moisturizer, and then sunscreen for greater results.
It's daily use soap but take a break after every three months
How long it takes Kojic acid soap to lighten the skin
Topically using Kojic acid soap, you may witness lightning effects within two weeks. Consistent use for 1 to 2 months will reveal rejuvenated milky, soft skin.