ROSE WATER TONER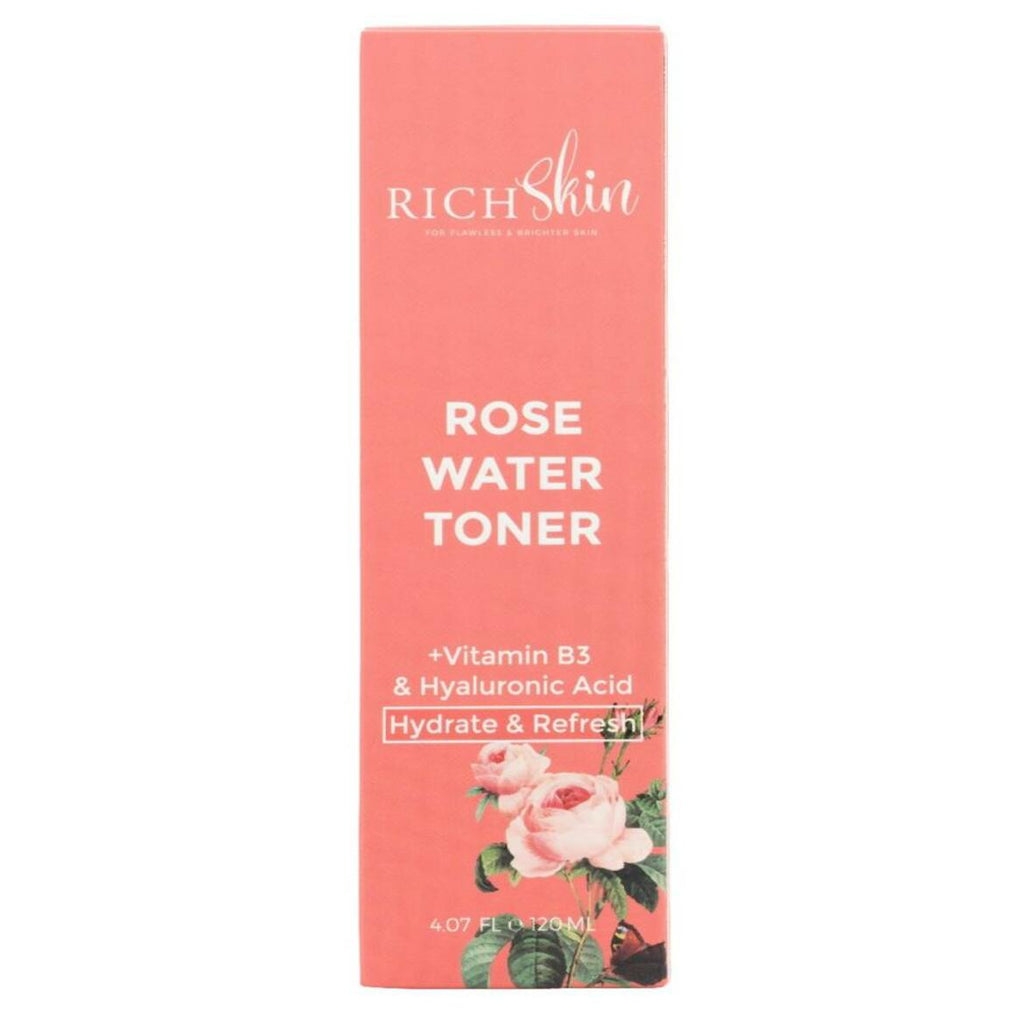 Rosewater Toner ___The Wonder Water
The best of the best is the botanical care____so play it cool with rosewater toner
Rosewater is known for its long-standing healing and skincare attributes before the buzzing beauty words. As an iconic botanical powerhouse, it never needs cluttering up various ingredients. Whether you are a makeup enthusiast or just a clear-skin fanatic. Rosewater toner is a perfect blend d nature and science to elevate your skincare vibes to the next level. Add rose water Toner to your beauty routine for skin revitalization, mind-bath, and mood boost.
How Rosewater toner works
Super light, water-like Rosewater toner is a fast-penetrating liquid, first, clarify the skin surface and pores, and then penetrates nutrients into the skin for intense hydration. Rosewater toner is like a prep for the rest of your makeup & skincare routine.
Oil-free shine
This wonder water curbs oiliness. It's a great ingredient for combo & oily skin for its hydrating and astringent properties. It gently lifts excessive oil, unclogs dirty pores, and control sebum production without drying down the skin. Its antibacterial power fights acne and prevents future breakouts.
Hydrates to feel alive
The latest blend of rosewater and toner has shattered old misconceptions that toners work only for oily skin. Studies show rosewater toner improves the skin barrier and effectively reduces Transdermal water loss.
Rosewater toner is extremely hydrating when you couple it with a moisturizer or serum. After rosewater toner application, when your skin is still damp, immediately seal it in with a moisturizing lotion or serum. It'll prevent further water loss…. Bye-bye flaky skin.
Knock out sagging skin
It's an integral part of the skincare routine of clear skin fanatics for its tightening effects. In a toner's form, it minimizes pesky large pores, tightens the skin. A firm, smooth plumed ravishing prepped skin is there to celebrate the makeup.
Beauty in skin deep
The supreme formula of rosewater toner is extremely gentle and glides away all the day's grime with ease. After cleansing, it removes leftover dirt and dead skin, clarifies skin pores. Resultantly it helps unclog pores reducing black and whiteheads accumulation.
Fight off inflammation
The rose complex found in this combination deeply soothes the skin and reduces the signs of inflammation. It sets deep into the skin and doesn't exacerbate sensitized skin.  Rosewater's natural detoxing and anti-inflammatory properties reduce redness, blotchiness, Itching and, healing irritated skin, naturally.
Stay young forever
From ancient queens' vanities to present-day's beauty arsenals, all are familiar with rosewater's anti-aging miracles.  Rosewater is enriched with two skin revitalizing Vitamins A and C.
When locked in the skin rosewater toner prevents oxidative damage, revamp, and improves collagen production. Eventually, minimize the appearance of the fine lines, reduce stretch marks and hyperpigmentation.
Balance PH level
Rosewater is a magic skin balancing treatment. If you're experiencing some oily and some dry days or losing the PH level balanced. Don't dwell on over-washing your face to avoid allergens, pollutants, and bacteria. Instead, use rosewater to control your skin's acid mantle to fight optimally against environmental stress. This way it corrects skin's PH level and prevents it from too dry or too oily days.
Aromatherapy
Rose is essential for aromatherapy in spas.  Rosewater toner's sweet alluring smells soothe and relax mind, body, and soul. Swipe across your face and deeply inhale the calmness to refresh your skin & soul.
When Rosewater Toner should be used
Rosewater toner does wonders after cleansing and exfoliation, or bath. It benefits the most when skin is still damp; the rosewater molecules penetrate active ingredients better when it's wet
Add to your day-night cleansing routines, especially after heavy makeup, sunscreen, and busy outdoor routines.
How should it apply?
You've two options
       Sprinkle some on clean hands and tap directly to face.
       Dispense some amount on a cotton swab and slather on gently working outwards.  
RICH SKIN ROSEWATER TONER
It's hard to beat RichSkin Rosewater Toner when it comes to name and trust. RiichSkin rosewater toner is infused with pure rose extracts straight from steaming the petals. The highly concentrated formula is designed to absorb quickly into the skin to ensure organic suppleness, brightness, and youthfulness.
Take Away
Swap your regular toner with rosewater toner. After cleansing Just spritz on a cotton swab and wipe off across the face- feel an instantly smooth and refreshed skin ready to inhale serum and moisturizer deepest into the skin layers.