YONI SOAP (VAGINAL CLEANSER)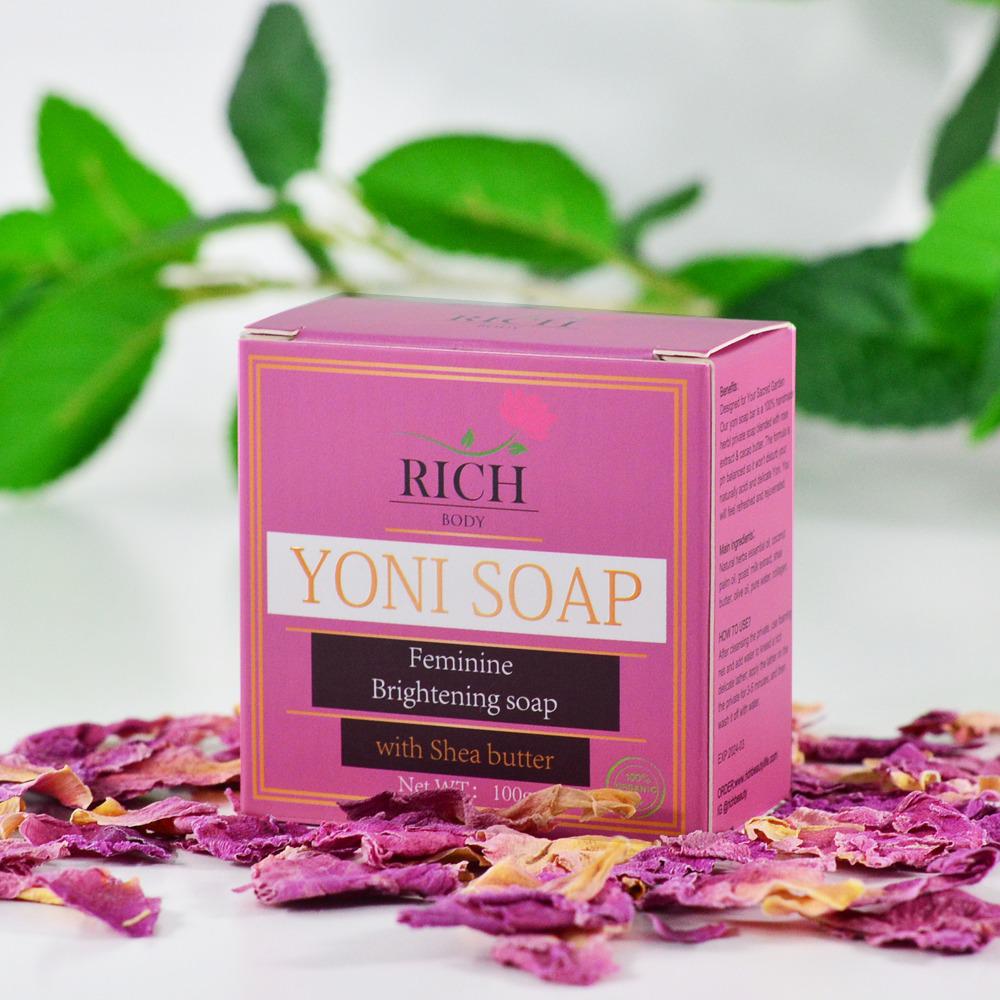 Your Intimacy Duplet To Be The Passionate Queen
Vulva and vaginal concerns are common. The most important elephant in the room is vaginal hygiene and the next is vaginal laxity. It affects many women, especially after pregnancy and child's birth. The stress of vaginal delivery or maybe aging diminishes tightness and sensitivity resulting in sexual dissatisfaction. Countless products and treatments are promising to be the magical silver bullet to dozens of vaginal health concerns. But the two phenomenal herbal products we are introducing here are the chart-busters.
Rich Beauty Yoni Soap
This occult blend of herbal ingredients is formulated to bolster your vulva's health. The mild, foamy, hand-made soap will leave you fresh, comforted, and healthy without disturbing the natural balance of sensitive microbiomes. Use it once a day and feel the freshness.
Cleans off the whole external area
The Rich beauty YONI soap  cleanses the whole external area (Vulva). It gently removes vaginal discharge, sweat, dirt, and grime caked up around the clitoral hood, inner and outer labia, and pubic hair, eradicating the potential risk of infections and irritation.
Hydrates intimate parts
Standard soaps and gels are quite aggressive for the genital area. Using just water dries up the skin causing itchiness and discomfort all day. The pure natural jojoba oil, lauric acid, and rosehip oil in it ensure deep hydration and suppleness. Daily use leaves your skin soft and itch-free.
Balances PH level
Regular soaps are highly alkaline while your delicate vulva skin requires acidic base-neutralization which is milder. Rick beauty yoni soap bar is curated using a perfect 4.5 PH level that would be gentle to work with your body's chemistry to create a balanced flora.
Natural Ingredients
Harsh chemicals used in feminine washes, such as paraben, sulfates, and glycerin are linked to ovary cancer, yeast production, and skin irritation. Here comes in action, Rich beauty yoni soap bar that relies on all-natural organic rose oil, jojoba oil, shea butter, and rosehip oil to protect the fragile vaginal flora of the inner parts
Skin Brightening
Although the intimate women's parts are a little darker. The elasticity, texture, and color deteriorate due to friction, infections, and growing age. The organic ingredients in Rich Beauty Yoni soap help revitalize skin lost brightness, tone down, and refresh the intimate area.
Foamy soft texture
Its foamy and soft texture is just right for the soft delicate skin. Gentle on skin, heavy on germs.